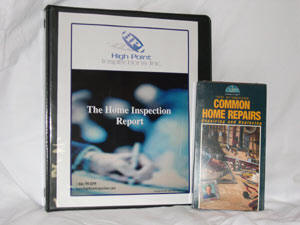 The inspector will provide you with an on-site 40-50 pg. computerized, detailed, digital photos, easy-to-reference, three ring final report binder covering over 500+ item inspection findings.
With the High Point Final Inspection Report you will also receive the Common Home Repairs video. The purpose of providing you with this complete package is to help you with the purchasing and maintaining your life time investment.


Below are sample pages from the High Point Inspections Report's Roofing section. Click on the thumbnails to enlarge.