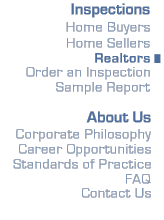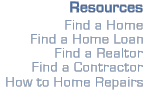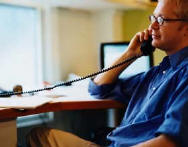 High Point Inspections is your ONE STOP inspection/testing company.

Call us 365 days, 24/7, to schedule all of your client's needs:
home inspection

mold testing/inspection

radon testing/inspection

lead testing/inspection

water analysis

carpet mold analysis
Experience
Our inspectors are seasoned professionals who have successfully completed a Nationally Recognized Inspection Training Program. We include classroom and extensive field training as a part of our continuing education to maintain our membership in OBRE. As per Illinois State law (January 1, 2003) every home inspector and corporation must be state licensed. Our Home Inspector license number is 050000332. High Point Inspections' corporation license number is 051000154. Our goal is to perform a quality inspection and to communicate effectively. We will answer any questions or concerns your client may have so they will feel knowledgeable and comfortable with their purchasing decision. This is all done with the highest standards set forth by our president of the company.

E & O Insurance
Every inspection is covered by $500,000.00 with Errors and Omissions Insurance. Should you, the agent, be involved in a claim as a result of one of our home inspections, this insurance policy covers your involvement as well. Realtors, bankers, lawyers, and insurance agents recommend our company for inspection services just by knowing that we will be present, should a complication arise.

Service
We recognize that each real estate transaction requires a completed inspection within a limited time frame. We provide you with 365 days a year, 7 days a week, 24 hours a day service. A LIVE agent will always be available to answer any of your questions and book all of your inspections. Our company's policy is to provide on-site, computerized home inspection reports.

If for any reason our company has not represented you in an acceptable fashion, we will refund the service within 30 days of the inspection or testing.